FAQs
This section is dedicated to answering FAQs (frequently asked questions) about Polo Strategico Nazionale. Review the information here and contact us if you have any further questions.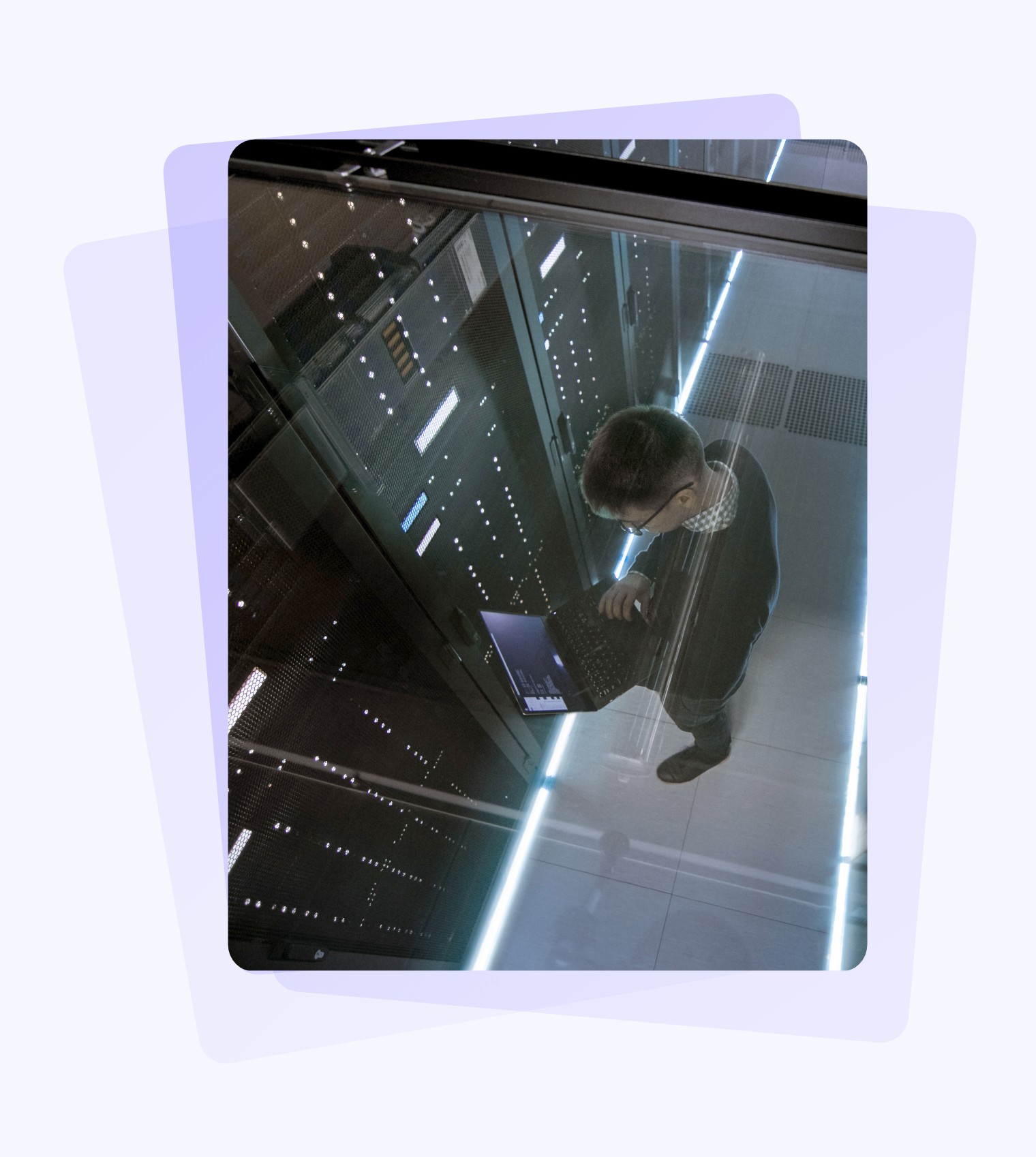 What is Polo Strategico Nazionale?
Polo Strategico Nazionale is a newly established company owned by: TIM; Leonardo; the Cassa Depositi e Prestiti/CDP (Italian Savings and Loan Fund), through its subsidiary CDP Equity; and Sogei (Società Generale d'Informatica del Ministero dell'Economia e della Finanze /the General IT Company of the Ministry of Economy and Finance). The Hub was set up to provide Public Administration with a highly reliable cloud infrastructure that hosts data as well as critical and strategic services.
What are Polo Strategico Nazionale's objectives?
We want to enable innovation and Italy's digital transformation through the secure management of PA data and services. We also want to create a technologically innovative cloud infrastructure that ensures security and economic and environmental sustainability.
What are the guiding principles of Polo Strategico Nazionale? 
We want to ensure a technological and operational presence that guarantees the highest standards of both physical and IT security.
We can provide full access to the best technological solutions for Data Center infrastructure, connectivity, platforms, and cloud services, while ensuring expert technology transfer and global leader know-how.
We have an extensive knowledge of PAs and are highly familiar with service delivery dynamics and guaranteeing a rapid response to needs and recommendations.
What are the project phases? 
The timeline includes two important deadlines:
at least 100 Administrations migrated to PSN infrastructure by September 2024

at least 280 Administrations migrated to PSN infrastructure by June 2026
How is Polo Strategico Nazionale meeting NRRP requirements? 
Mission 1.1 of the NRRP includes the allocation of EUR 900 million for cloud migration. These funds were released following infrastructure testing in December. Our ultimate goal is to achieve all Next Generation EU milestones while being guided by two pivotal concepts: security and privacy-by-design. We also take into account the continually increasing number of cyberattacks directed at State, Government and/or Public Institutions.
Who can join Polo Strategico Nazionale?
As stipulated in the regulations establishing Polo Strategico Nazionale S.p.A. (Article 33 septies of the Decree-Law of 18 October 2012, No. 179, especially paragraphs 1 and 1a), the Italian Administrations which can join include Central Public Administrations, Local Public Administrations, and Health Authorities.
PAs can join the Agreement without having to use a tendering procedure.
This process is described on the Department for Digital Transformation website (specifically in the section entitled, "The process of joining the Hub and contract activation").
While in some cases migrating to the Hub's infrastructure can be financed by accessing Next Generation EU funds, this is not a requirement for membership.
How does one join the Agreement?
The process of a PAs migrating to Polo Strategico Nazionale's cloud requires a few steps.
The Administration prepares and sends a Needs Plan to the Hub, using the available template. This plan describes the needs and services being requested. Within 60 calendar days of receiving the Needs Plan, Polo Strategico Nazionale prepares and sends back a Needs Project to the involved Administration. This contains a technical-financial proposal addressing the indicated needs.
The Administration may then approve the Needs Project within 10 calendar days of receiving it by signing a User Contract.
Where can I find the Needs Plan?
The Needs Plan template is available on Polo Strategico Nazionale website on the "How to join" page. You will also find the other useful documents for the migration process there.
What e-mail address should I send the documentation to?
The Needs Plan should be sent to the following certified email address: convenzione.psn@pec.polostrategiconazionale.it
What does the PA need to do? 
To proceed with joining, an Administration must: 
prepare and send the Needs Plan to Polo Strategico Nazionale 

await receipt of the Needs Project, which the Hub is required to send back within 60 days

review the Draft Needs Project and pursue any further comments within 10 days

if the PA approves the project, they will conclude a contract on the basis of the template attached to the Agreement 
What is expected from Polo Strategico Nazionale?
Polo Strategico Nazionale must:
provide support to the PA in drafting the Needs Plan

send the Draft Needs Project to the PA with a description of services and their corresponding costs while also attaching the best migration plan

update the Draft Needs Project accordingly within 10 days should there be any comments submitted by the Administrations

if the project is approved by the PA, conclude the contract 
What is the "Italian Cloud Strategy"? 
The Italian Cloud Strategy was created by the Department for Digital Transformation (Dipartamento di trasformazione digitale/DTD) of the Prime Minister's Office and the National Cybersecurity Agency. The aim is to ensure the country's technological autonomy, guarantee control over data, and increase digital service resilience.
What does the "Cloud First" principle mean? 
This means Administrations should opt for a cloud paradigm over any other technological option when defining new projects and services.
How is PA data classified? 
An Administration's data can be defined as: 
Strategic. Has an impact on national security, for example, data used in preparing the state budget

Critical. Serves socially relevant functions, such as health, security, and the economic and social well-being of the country, for example, health data

Ordinary. Does not result in the interruption of essential or important state services, for example, data published on the institutional site of an entity
What is Cloud Computing?
Cloud computing is a service delivery paradigm offered over a network. It is based on a set of pre-existing, configurable, and remotely available resources arrayed in a distributed architecture.
What kind of Cloud Services can a PA choose?
A PA can only purchase qualified Cloud Services, which must meet specific technical and organisational standards, data control measures, and encryption-key management and security controls.
Why migrate to a cloud?
By migrating to Polo Strategico Nazionale's cloud, Administrations will be able to count on more secure digital services. Migrating to qualified Cloud Services also allows PAs to benefit from the advantages of scalability, elasticity, and strengthened security and resilience against cyberattacks. As such, they can offer better digital services to citizens and businesses.
Can migration be partially financed?
Migration to qualified Cloud Services can be financed by accessing Next Generation EU funds. 
Is cloud training for Administrations also planned?
Administrations participating in the project will be able to count on the Business & Culture Enablement training service. This aims to promote full development of the skills needed for digitally transforming a PA. Consulting and system integration will also play a key role in achieving the country's full digital development in this regard.
What solutions do we offer Administrations?
Polo Strategico Nazionale will support Administrations in an end-to-end, turnkey, physical and virtual migration process. The main services offered to PAs are Housing and Hosting, Private Cloud Services, Cloud Services with Cloud Service Providers, and Professional Services.
What is meant by a Housing Service? 
Housing allows Administrations to place and use their servers on an equipped space owned by Polo Strategico Nazionale.
What is a Hosting Service? 
Administrations also have the option of hosting their applications on rented servers owned by Polo Strategico Nazionale. This Hosting service guarantees interconnectivity with PA systems that are part of other services provided by Polo Strategico Nazionale .
What are Private Cloud Services?
Polo Strategico Nazionale provides Private Cloud services to Public Administrations. These include on-demand and as-a-service solutions, virtual infrastructure, and application management platforms that meet the various demands of Italian PAs.
What is meant by Cloud Services with Cloud Service Providers? 
PAs can access services with Cloud Service Providers in public or hybrid modes, depending on their needs. These solutions are currently implemented in partnership with Oracle, Google Cloud, and Microsoft Azure. In the future, they may also be delivered through other Cloud Service Providers.
What are the Professional Services offered?
These are additional, optional, functional options for further developing PA services. They include:
Re-platforming

: solutions for redesigning platforms that host PA applications and which enable cloud transformation.

Re-architecting

: solutions for redesigning application architectures from a cloud perspective. 

Professional Services and Security Compliance:

Strategy & Compliance projects aimed at assessing infrastructure and application security as well as supporting continuing high security standards in administrations. 

IT Infrastructure – Service Operations

: specialised on-demand services that support operations involved in managing PA infrastructure and applications.

 

Business & Culture enablement

: training and consultancy services for Administrations. These are designed to help PAs develop highly reliable infrastructure and support them over their technological development path.
What are Polo Strategico Nazionale Data Center like?
At the heart of Hub are the National Data Center. These are designed, built, and operated in a way that provides the energy efficiency infrastructures need while lowering environmental impacts.
Where are the Data Center located?
The Hub's four Data Centers are located in Lazio region (Pomezia and Acilia) and Lombardy region (Rozzano and Santo Stefano Ticino).
What makes the Data Centers efficient? 
Energy efficiency in the Data Centers is pursued first and foremost through the targeted design of facilities and industrial plants using energy-efficient and environmentally friendly components and technologies. In addition, we use best-in-class IT equipment and products. These offer greater compactness and lower power consumption alongside high processing capacity.
Do Polo Strategico Nazionale Data Centers meet sustainability criteria?
Polo Strategico Nazionale is actively committed to sustainability. This means meeting the highest infrastructure standards, including a Tier IV and ANSI/TIA 942 Rating 4 and international certifications, such as ISO 50001, ISO 14001, and LEED Gold.
How do the Data Centers comply with environmental sustainability criteria?
Polo Strategico Nazionale optimises operational energy consumption by using renewable energy and free cooling. Our IT equipment and best-in-class products offer greater compactness and lower power consumption, yet high processing capacity. We also work to minimise waste generation and reduce water consumption.
Is Polo Strategico Nazionale Infrastructure Carbon Neutral?
We have set the goal of reducing our overall carbon footprint and becoming carbon neutral by 2030. This means following the climate target plan drawn up and set out by the European Commission.